"Eight years have passed, this time I come to see that Shenzhen, Zhuhai and some other localities have undergone rapid development, it is really out of my expectations. After seeing all this, I've got enhanced confidence."
"From the very outset there were different opinions concerning the establishment of special economic zones, fearing whether this meant practicing capitalism. Shenzhen's construction achievements have answered those having worries of one kind or another, the special zone is "socialist", not "capitalist" in nature."
"Don't be afraid the establishment of more Sino-foreign cooperative enterprises, Sino-foreign joint ventures and solely foreign-owned businesses. We need not be afraid so long as we are clear-headed. We have advantages, large and medium-sized State-owned enterprises and township enterprises, more importantly, we have the political power in our own hands."
"Guangdong should strive to catch up with the said "four small dragons" [Hong Kong, Taiwan, Singapore and South Korea] in Asia in a 20-years' time."
"Singaporean social order is good, because the country put it under strict control, we should learn from its experiences and should exercise better management of society."
"Failing to adhere to socialism, to carry out reform and opening up, to develop economy and to improve people's livelihood can only lead up to a blind alley. The basic line governs one hundred years and must not be shaken."
"Leading cadres and Party members should tackle the construction of a clean and honest government as a major task; pay attention to the training of a young generation of successors, and other important issues."
"Are such things as securities and stocks good, do they cause danger, are they things unique to capitalism, can socialism make use of them? It is permissible to judge, but we must be resolute in having a try. If it proves right, then we put it into practice for one or two years, if again it proves right, then we should open it; if it proves wrong, we will correct it and close it."
"In rural and urban reforms, we don't hold debate, instead we make bold experiments and breakthrough"
"If we are to seize opportunities to promote China's all-round development, it is crucial to expand the economy. The economies of some of our neighbouring countries and regions are growing faster than ours. If our economy stagnates or develops only slowly, the people will make comparisons and ask why."
"Slow growth equals stagnation and even retrogression. We must grasp opportunities; the present offers an excellent one. The only thing I worry about is that we may lose opportunities. If we don't seize them, they will slip through our fingers as time speeds by."
Source: Quotes taken from "Records of Comrade Deng Xiaoping's Shenzhen Tour", published by the People's Daily.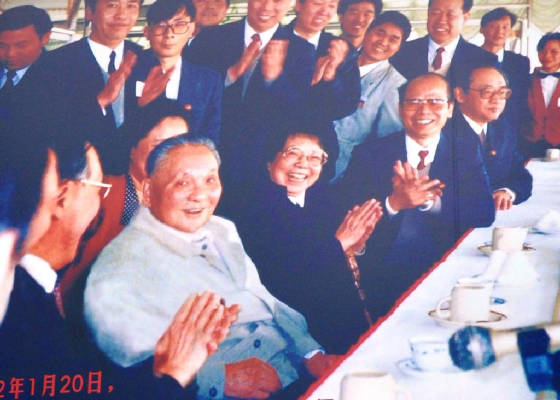 Deng Xiaoping in Shenzhen on 20th January 1992