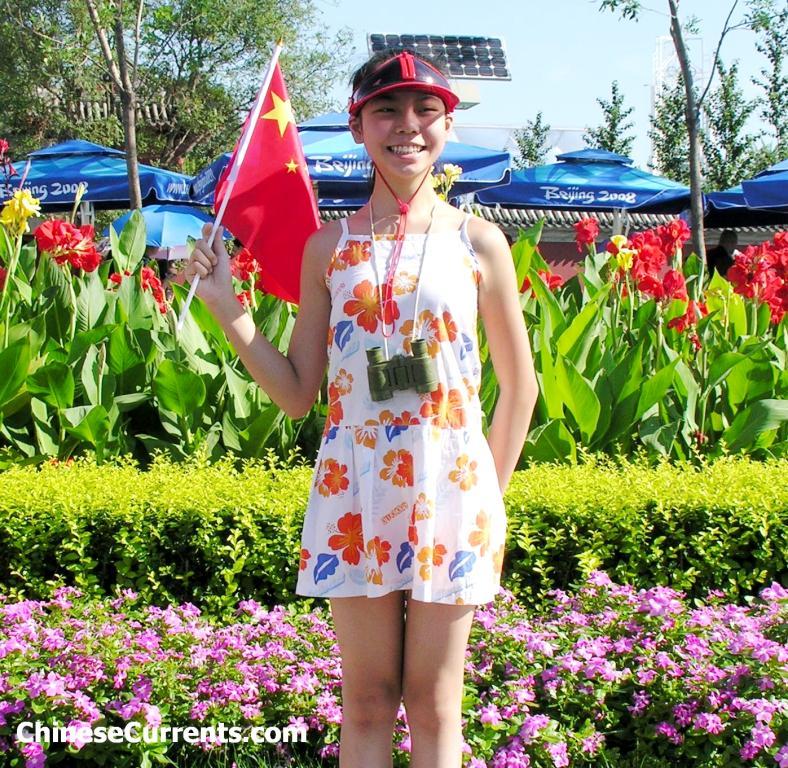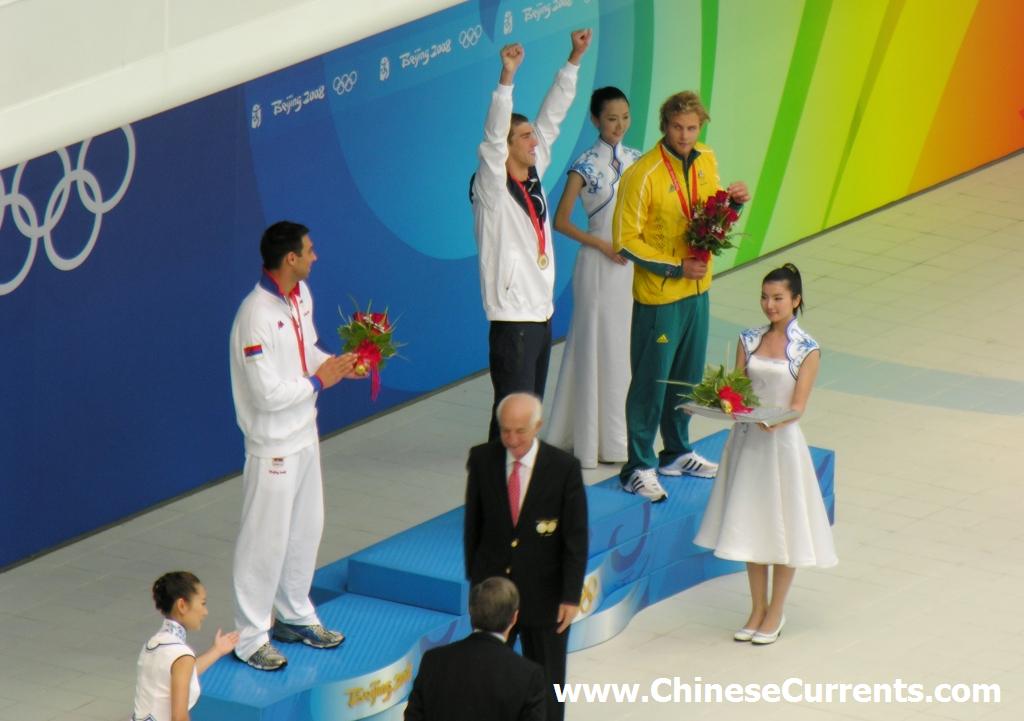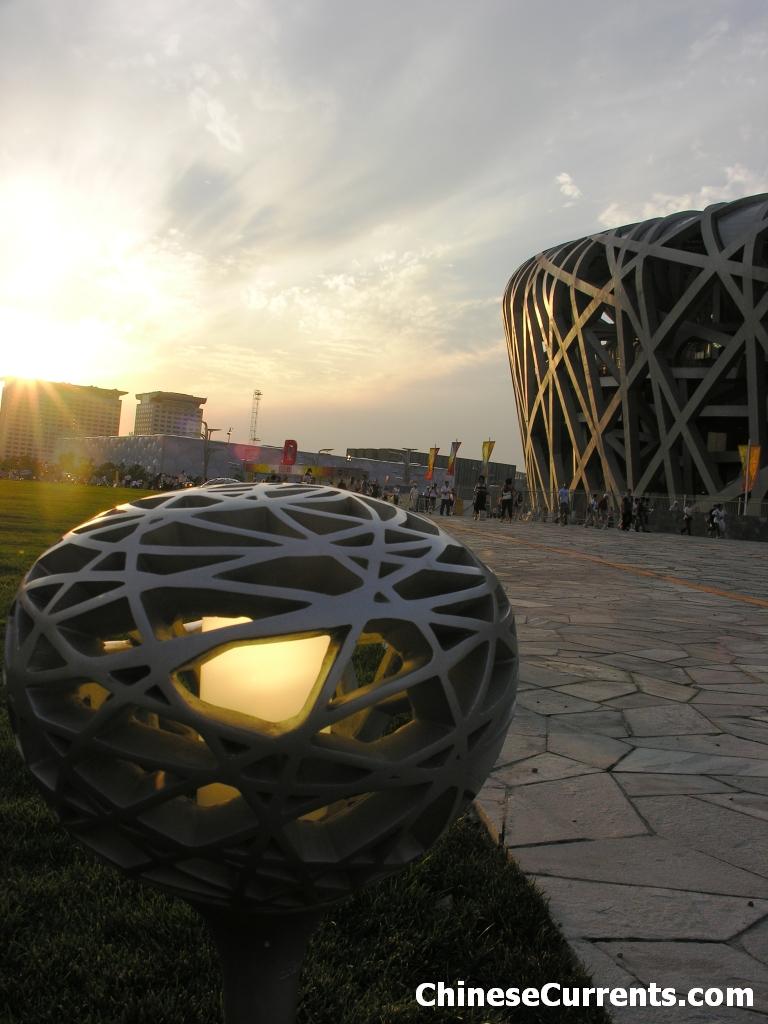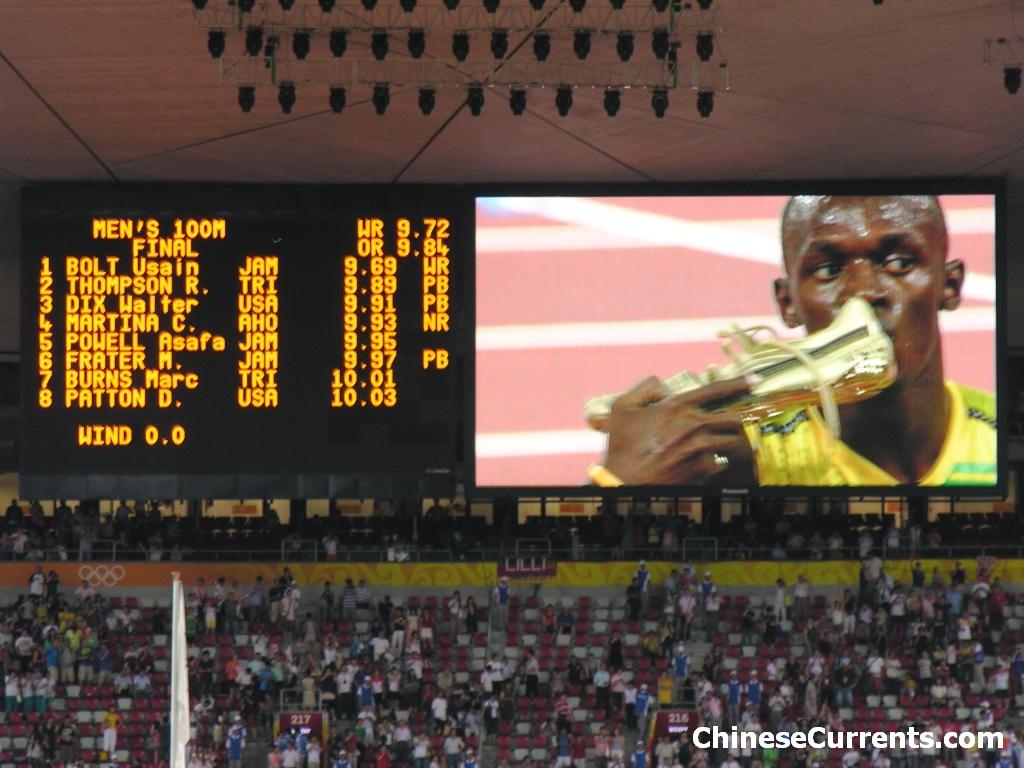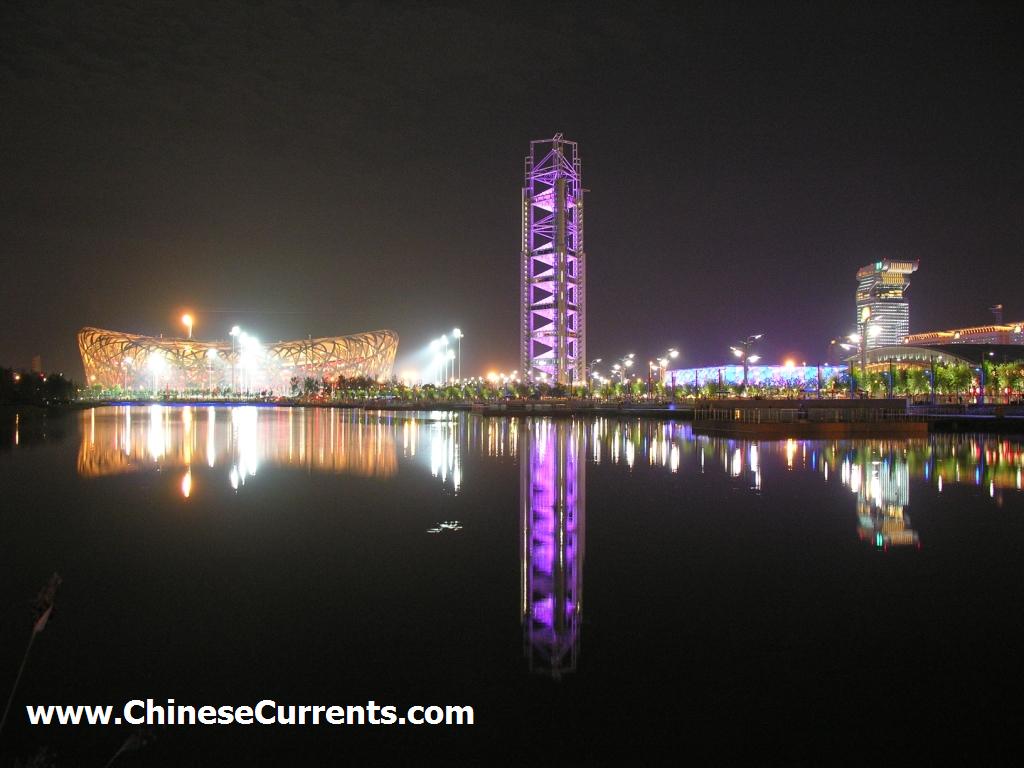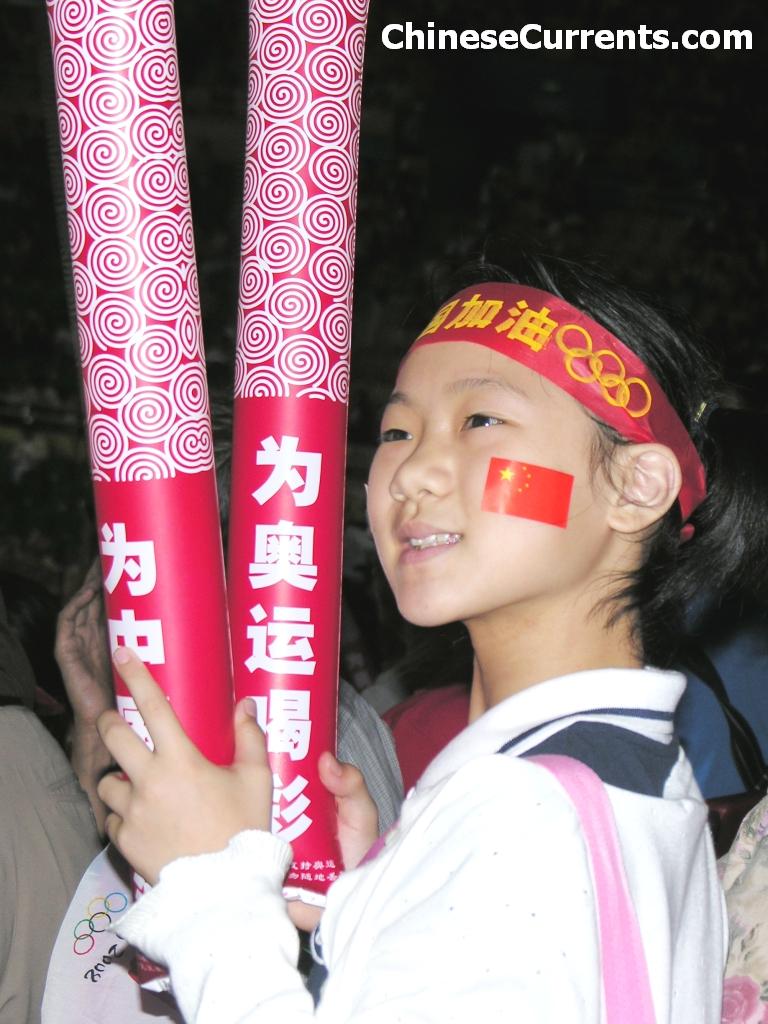 .
.
"YES WE (also) CAN!" - Thursday, 6th November 2008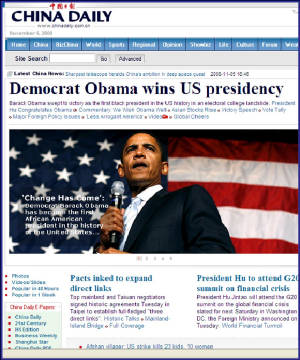 The China Daily captures the moment (click picture for access to China Daily video)
Chinese bloggers are always quick to offer their views on any international event that could impact on domestic affairs. Not surprising, then, that the election of the soon-to-be 44th president of the United States has inspired untold numbers to put fingertips to keyboard and tap-out their view of Mr Obama and what his presidency might mean to China. A search of the blogosphere a few hours after the result became clear has revealed a mixed bag of opinion.
If one were to paraphrase a typical comment, then it would be something along the lines of: Well… of course Obama is different, but at the end of the day – no matter what the colour of his skin may be – the president of the United States will always look after the best interests of the US. And if those interests are at odds with China's, then China needs to continue to stand up for herself. After all, leopards can never change their spots!
There are also, of course, countless postings that don't concur with this sound bite. Perhaps one of the more interesting of these is written by a young man of the "80s generation", who writes a blog using the pen-name Shui Yinhe (Yinhe literally means "silver river", and translates as Milky Way). Mr Shui is a popular blogger – within touching distance of the magical 10 million hits mark – and so what he says tends to count for more than most bloggers' opinions.
Mr Shui has read Mr Obama's autobiography. And it has inspired him. He compares the next president's early struggles with his own, writing candidly about the difficulties he experienced within the Chinese education system and, following graduation, the problems he had to overcome to get onto the career ladder and earn enough money to live on. His final paragraph is moving; it will also offer hope and comfort to many readers – particularly those born in the 80s – whose hopes of a shining future are presently being knocked back by the realities of life.
Mr Shui writes:
"Confidence is very difficult to attain. When you've got some, you can have self-belief; without any you can only feel inferior. Regarding the 80s generation, we often start out feeling the former [having self-belief], but after we meet setbacks we quickly change to the latter [feeling inferior]; and gradually our confidence slips further and further away."
"What's to be done?" asks Mr Shui.
He immediately answers his own question:
"I think we should learn from Obama: starting with finding a positive force to believe in and little by little accumulating success and confidence. It's a bit like writing a blog: Today you get 10 hits, tomorrow 50 hits, and the day after perhaps that becomes 100,000!"
In short, Mr Shui's message is: "YES, WE (also) CAN!"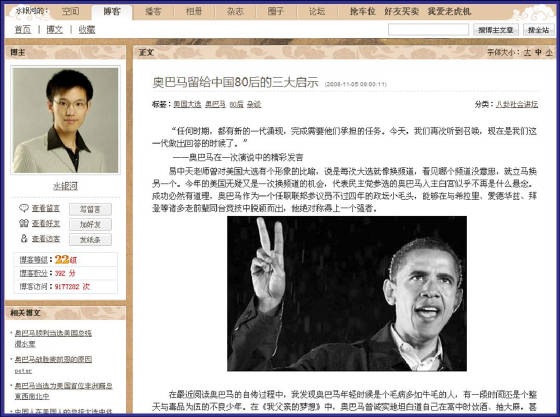 Shui Yinhe's blog posting inspired by president-elect Obama
.
.
Show me "The Way" - Friday, 31st October 2008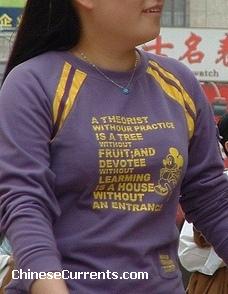 Wise words
MacMillan has announced that it will publish an English translation of Yu Dan's Confucius from the Heart in May next year. The author is a professor at Beijing Normal University and is famous for her television lecture series, Yu Dan's Insights into the Analects of Confucius. In the two years since its publication, the book of the series has sold over 10 million, reportedly including sales of six million pirated copies.
But not everyone has been cheering her on. Some of the "old school" scholars at China's most prestigious academic institutions quickly joined forces to register their disdain. Horror of horrors, the 42 year-old media studies professor has been accused of "dumbing down" (among other things). Some pundits have suggested, however, that the attacks were provoked by snobbery and jealousy: Not only is Ms Yu from a "lesser" university than her detractors, she has also earned the respect of millions of young people by making Confucius relevant to their daily lives. Not to mention the matter of the US$1 million in royalties she has reportedly earned.
The Lun Yu (Analects or "sayings") are no stranger to controversy. They were most likely compiled after The Master's death by his disciples and, over the ages, their interpretation has been hotly debated. Nevertheless, they have been one of Chinese culture's guiding lights for more than two-thousand years. During that time, Confucius's occasional fall from grace has been associated with culturally fallow periods such as the early days of the Yuan dynasty (Genghis wasn't a big fan apparently); and of course during the Cultural Revolution, when the campaign to smash the Si Jiu (the Four Olds: old customs, old culture, old habits, old ideas) made Confucius – and anything and anyone associated with his doctrine – the Red Guards' number one enemy.
Since China "opened-up" in 1979, The Sage has been working his way back into favour with the establishment. In the past few years his popularity has sky-rocketed. The Confucian ideals of peace, balance and harmony are, of course, highly relevant (and useful) to the present administration's theme of a harmonious society. The state apparatus is, it seems, going out of its way to dial-up Confucius and his teachings. As well as the lecture series and best selling book, there have been statues erected, commemorative events, Internet chatroom discussions, and not forgetting the Olympic Games opening ceremony, when 2008 drummers yelled out Confucius's immortal words: "You pengzi yuanfang lai, buyi yue hu?" (What could be happier than receiving friends from afar?) to the beat of Xia dynasty drums.
A publicity campaign promoting Confucius would not be successful, however, without a large and receptive audience. There's no doubt that the doctrine strikes an empathetic chord with a large number of China's young people – many of whom are finding it very difficult to achieve "spiritual balance" in an increasingly materialistic society.
So, if you find yourself in a Starbucks in Beijing, Shanghai, Guangzhou, Shenzhen, Dalian, or wherever, don't be surprised to see a cool-looking twenty-something reading the Analects. Confucius may have been 2559 years old a few weeks ago, but his thoughts and ideas are being read by more people today than at any time during China's recent history.
.
.
Microsoft "Paints it Black" - Thursday, 23rd October 2008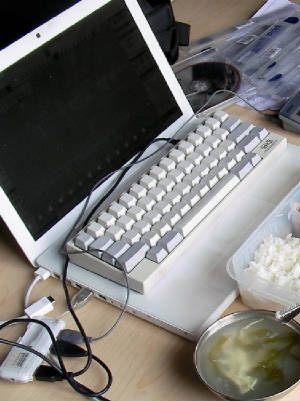 "Start me up" or "Paint it black"? (photo: Gen Kanai)
Starting yesterday, users of pirated versions of "Microsoft XP" in China are getting more than they bargained for when they update their software. To get the updates, they need to first submit to a validation process. If Microsoft detects that a pirated version of XP is being used, then it turns the offender's wallpaper black as well as unleashing a pop-up reminder (to buy legal software) that refuses to go away. The preferred wallpaper can be re-set, but only after the computer is restarted. Alas, any thoughts that the intrusion has been stopped are scuppered one hour later when the black plague returns.
No one quite knows how many pirated versions of Windows XP are running in China, but the speed and ferocity of the response to the blackout suggests that perhaps millions of people have been affected all over the country. Chat rooms, blog rolls, and message boards are brimming with condemnation of what is being widely viewed as an act of corporate treachery.
Sina.com, a leading Web portal, was quick to launch a survey on the controversy. In less than a day, more than 130 thousand people had voiced their opinion, and they are not happy: 87.44% said that the action "would put them them off buying genuine Microsoft products", reports the People's Daily.
There's every sign that the indignation will be ratcheted up several notches more. The state media is giving lots of air time and column inches to a campaign launched by Dong Zhengwei, a Beijing lawyer, who has lodged a formal complaint with the Ministry of Public Security. Mr Dong is accusing Microsoft of "invading personal computers without user permission", reports the China Daily. "It's like someone kidnapping someone to get the money owed to them," says Mr Dong…"In this case Microsoft is taking hostages for money. This is a crime." (a video of this tirade can be found in the "Brands" video gallery).
So, is this the world's biggest-ever hacking attack, or simply a case of a long-suffering company protecting its hard-earned intellectual copyright? From an accountant's perspective, they may indeed be "losing" hundreds of millions of notional dollars in China revenue because of widespread piracy. But, on the other hand, the availability of much-cheaper "Microsoft" software has been an important factor in the light-speed increases in computer penetration; not to mention providing Microsoft with a great advert (seen by people whose next computer may well include an authorised Microsoft product). And wasn't it Bill Gates who said that tolerating piracy was crucial to Microsoft's success in China (it now runs on more than 90 per cent of China's estimated 120 million computers).
Since entering the China market in 1992, Microsoft has won friends in high places (even Hu Jintao is an avid user) through its willingness to engage in a corporate form of shuttle-diplomacy. There have been encouraging signs that this approach has been working. One of their biggest coups was to persuade Lenovo, China's largest computer manufacturer, to bundle Windows into their sales packages (in a US$1 billion deal). With things going so (relatively) well, why then would Microsoft decide now to change its softly-softly approach?
Whatever the reason, and whichever side you are on, one thing is for sure in this debate: Microsoft is taking a huge gamble that it can, over time, win the public relations battle. Its case would not have been helped by a Microsoft spokesperson's on-camera assertion that "the purpose, really, [is] to help our customers determine if their software is a genuine copy…" (see the above-mentioned video). To even suggest that the action has been designed to "help" those affected is disingenuous to say the least.
If brand perception were monitored daily, then today would be the worst day in Microsoft's 16 years in China. It remains to be seen what Microsoft will do to begin to repair the damage to the brand (restoring people's computers to their previous settings perhaps? – assuming some enterprising Chinese software writer hasn't already circulated the code that would do exactly that). Whatever Microsoft does, bullet holes in the foot tend to take a very long time to heal.
It reportedly cost Microsoft US$10M to secure the rights to use the opening bars of the Rolling Stones' hit "Start Me Up" for their Windows 95 advertising campaign. Their decision to "Paint it Black" may well end up costing them considerably more than that.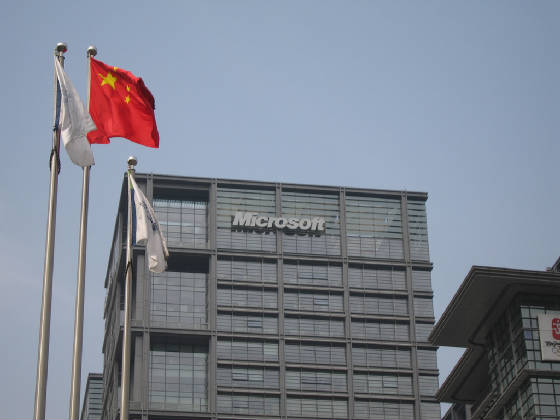 From shuttle diplomacy to a coordinated guerilla attack (photo courtesy of Taiyofj)
.
.
Trouble in Toytown - Friday, 17th October 2008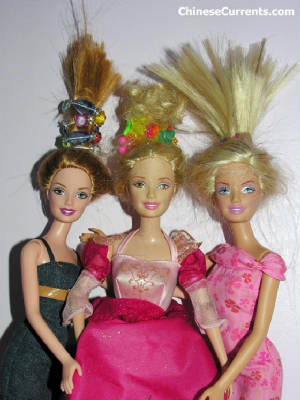 Bad hair days
It was the best of times; it was the worst of times. A week ago, it all seemed to be going jolly well for Barbie. There were photo shoots; advertising campaigns; book launches; magazines; a critically-acclaimed "1000 Barbie" seven-city tour of China had just begun; and, to cap it all, there was even talk of plans to open a larger-than-life Barbie World in Shanghai. But even the busiest doll in the world couldn't have failed to notice this morning's headline in the Shanghai Daily: "World's largest toy-maker goes bankrupt."
Smart Union, which made toys for Mattel (Barbie's "label") and Disney, among many others, closed its two factories in the southern city of Dongguan yesterday. The closure, which affects 6,000 workers directly, is not only bad news for the local economy; it is also bound to further reduce China-wide consumer confidence. What's more, it sends out a clear signal to the world that China is also suffering from the fall-out caused by the catastrophic failure of so many large cogs in the world's banking mechanism.
Talking of depressed consumer confidence and people reining in spending on non-essentials, the main reason for the company collapse is the downturn in demand from the US market. A whopping 70 per cent of its toys were exported there. This, combined with the appreciation of the yuan (making exports more expensive) and the rise in staff costs – caused by the state's more-generous social security protection – made it impossible for the company to survive. State media reports that Smart Union had been struggling to pay its workers for the past two months, and that it had reported a trading loss of US$25.9M during the first half of this year.
On Tuesday, China Central Television (CCTV) ran a story (the English-language video of this will be added below in a few hours) about the Chinese toy industry's problems. It reports that, compared with a year ago, more than 50 per cent of companies have had to close and that: "The victims are largely small companies unable to adjust to changing conditions both at home and abroad". It's clear now that the problem is far bigger than that.
Du Haiqun, a worker at one of the two huge factories that has closed in Dongguan, told the state media that one day (this week) he was making toys and the next day he was out of a job and the factory boss had gone into hiding. The mood in the city is indeed grim, and not just among the workers of the factories that have closed. Seven out of ten of the world's toys are produced in China; and four in every ten toys produced in China are produced in Dongguan city. That's a big number of toy-makers who are worrying about their future. Not to mention an even greater number of parents in China and abroad that will have to pay more for their children's toys this Christmas.
.
.
Build it and they'll come - Tuesday, 14th October 2008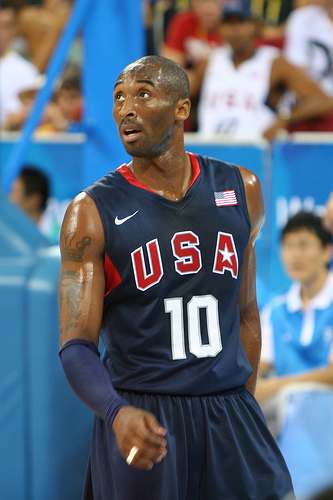 Kobe Bryant - more fans in China than the US? Photo courtesy of Richard Giles (click photo)
Basketball is big in China. Several years ago, football was the favourite sport of China's young people, then along came Yao Ming and the National Basketball Association (NBA). The combination of a home grown world-class superhero and the NBA's unique ability to take the game (and Yao Ming) to grass roots level via their hugely popular televised games and their Chinese website resulted in an incredible upsurge of interest in basketball throughout the country.
No matter where you go in China, you are sure to find Chinese young people playing the game and, if you visit one of the multitude of Internet cafés that have popped up in every town and city, you are likely to see the China NBA website displayed on numerous computer screens.
The NBA's first foray into China was in 1979, when they sent over the Washington Bullets (now Wizards) to play two games, one against the Chinese national team (click here for a video "flashback"). Interest was ignited again in 2004, when Yao Ming's Houston Rockets played the Sacramento Kings in front of capacity crowds in Beijing and Shanghai (the photo below shows just how keen the Beijing crowd was to get into the arena). Two more US teams toured last year; and this year the Milwaukee Bucks will play Golden State Warriors. The first game tips off in Guangzhou tomorrow and, on Saturday, the show will move to Beijing, where the teams will play in front of more than 17,000 fans at the Olympic Basketball Arena, the scene of Team USA's recent Olympic triumph, not to mention redemption.
The NBA has set its sights on more than basketball, though. It is working hard to establish itself as an important and responsible member of the "Chinese community". Hence, among other initiatives, its keenness to partner AEG in a long term arena-development project that will embrace China's major cities. AEG is perhaps best known for its management of London's O2 arena – and is widely acknowledged to have masterminded the transformation of that venue, which used to be regarded as a white elephant of mammoth proportions.
Appropriately, the press conference to announce the NBA and AEG China-collaboration was held at "The O2" on the occasion of an NBA game there. According to the press release, the two organisations "have formed a joint venture to design, market, program and operate multi-purpose, NBA-style sports and entertainment arenas in major cities throughout Greater China".
David Stern, the NBA's Commissioner, said: "Together we will work with every level of government and the private sector to create NBA-style sports and entertainment facilities that will anchor communities and grow the sport of basketball throughout China." The NBA says that "about 12" such arenas will be "designed and developed".
Good news, then, not just for the NBA and AEG, but also for millions of Chinese people who will be able to enjoy "NBA-style" world-class sports and entertainment venues on their doorstep.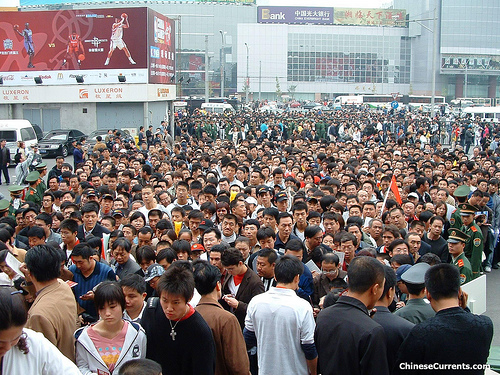 Yao Ming was the big draw at the Houston Rockets vs Sacramento Kings game in Beijing in 2004
.

.

Beijing car owners set for more "bad air" days – Monday, 13th October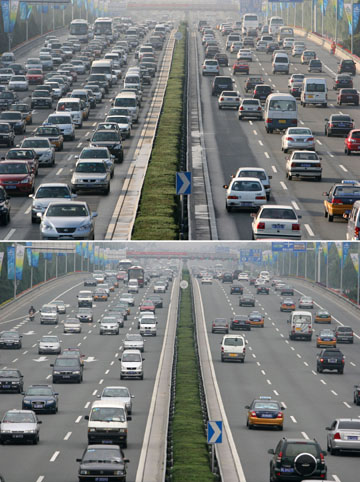 Last day of "Olympic rules" on the 4th ring and the first work-day of no restrictions (China Daily)
21 days. That's the timeframe between the ending of the two-month long traffic restrictions – imposed to improve air quality during the Olympics – and the start of a new regime of controls. From today, car owners will "take turns" to leave their cars at home for one day a week: Those whose number plates end with 1 or 6 are forbidden from going within the 5th ring road on Mondays; 2 or 7-ending licence plate-holders will have to make alternative arrangements on Tuesdays; 3 or 8-holders on Wednesdays; 4 or 9ers on Thursdays; and those with the 5 or 0 as a last number will find it more difficult getting back home from work on Friday evenings.
The new restrictions – that will be imposed for a six-month "trial period" – don't apply during the weekends, but that's not much comfort for the millions of drivers who depend on their vehicle for getting to and from work. The new restrictions have "sparked an outcry from car owners, many of whom complain it is 'unfair'", reports Xinhua, the official Chinese news agency; which goes on to say that, of the online comments posted by 2,400 people on Internet-portal Sina.com within two hours of the announcement of the new ban, "very few postings were supportive of the ban". Or, in other words, except for a few non-drivers who bothered to write in, everyone is hopping mad.
The traffic flow of negative online comments will undoubtedly become far heavier if the threatened supplementary regulations are also enforced. Beijing's environmental protection bureau's deputy director Du Shaozhong told the China Daily that "the city will adopt stricter vehicular restrictions during periods of heavy air pollution". An air pollution index of 300 or more is the trigger, at which point Beijingers will be given two days notice of the return to the Olympic-period's odd/even number plate rule, which reduces the number of private cars by 50 per cent (see photo).
Guo Jifu, director of the Beijing Municipal Transportation Development Research Centre, estimates that car numbers in Beijing will rise by two million in the next four years – to 5.4 million cars. Assuming that the recent slowdown in car sales doesn't continue, and the figure quoted by Mr Guo turns out to be correct, it's hard to imagine that things will ever get any better for Beijing's beleaguered car owners.
As average income increases and as more people move to the suburbs, car sales are bound to follow the same upward curves.
Expect, then, to see more measures imposed that are designed to curb usage (and reduce demand). The Beijing motorist is likely to face higher car taxes; more expensive fuel; more restrictions on when and where he or she can drive; more bus-lanes; higher city-centre parking fees; and even a congestion charge. No doubt that the governments – and car-owners – of other cities with similar problems will be watching closely.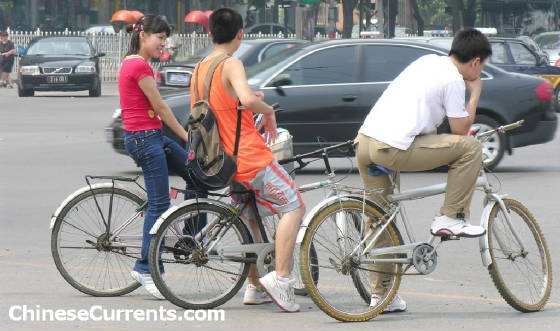 "I dream of having a car that I can drive on a Friday"
.

.

Yorkshire puddings arrive in Shanghai – Wednesday, 8th October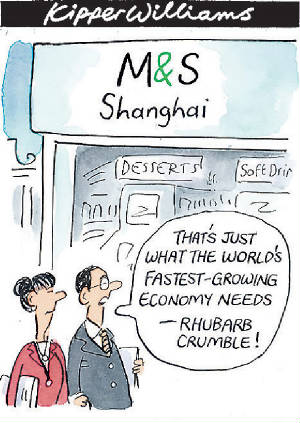 Is M&S about to change the way China shops?
Marks & Spencers, known as "M&S" on its British home ground, where it has more than 600 stores, is now open for business on the Chinese mainland. At 40,000 square feet (3,700 square metres), the store on Shanghai's West Nanjing Road is the company's largest in Asia.
Richard Sweet, Managing Director, Marks & Spencer China, says that mainland shoppers' positive experience of their Hong Kong stores bodes well for business on the mainland: "… around 30% of customers in some of our Hong Kong stores are from mainland China. They love our good quality, value products, so we believe there is a demand for M&S in China".
The store will display one of the widest ranges of its 290 international stores, including – much to the delight of British expats living in the city – frozen Yorkshire puddings, and Christmas puddings.
It's not likely, however, that the expansion into mainland China will be able to deliver much cheer to the company and its shareholders, at least for the coming Christmas. Sir Stuart Rose, M&S's executive chairman, warned that the critical Christmas period will be "very, very difficult", reports the Daily Telegraph.
Those sentiments won't do anything to shore up confidence in the company's shares, which have taken a battering for the past year, and are now trading at slightly over two British pounds (down from six pounds at the start of the year).
In the longer term, though, China and India (M&S reports that it has plans for 50 stores there) could indeed provide the company with a much-needed fillip; particularly if it focuses its marketing efforts on its clothing line. The M&S clothes label has the potential to do well in developing markets because it delivers good value (people are happy to pay more for outstanding quality, particularly so if it's got a "foreign label" attached to it). As for the food side of the business… time will tell, but Yorkshire puddings – along with other expensive pre-cooked items – are more likely to be on Mr and Mrs Wang's list of dinner time conversation-starters than on their till receipt.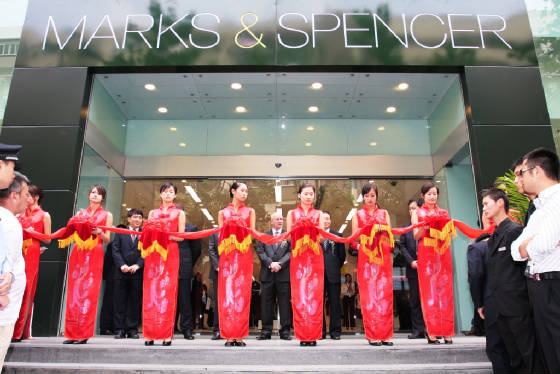 .
Skype breaches subscribers' privacy - Friday, 3rd October 2008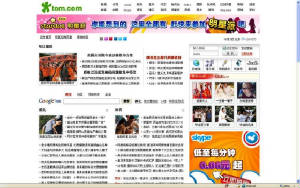 Tom.com's home page today (Skype ad is at the bottom right)
The newswires (outside of China) are buzzing this morning with the news that messages sent via Skype in China have been monitored.
The Canadian Globe and Mail trumpets what it calls: the "creative-hacking" exploits of Nart Villeneuve, a "Toronto-based researcher", who "stumbled" onto a "surveillance network…". Mr Villeneuve found that messages containing certain "key" words (no prizes for guessing which), were being sent to eight servers that, "on closer inspection", contained "166,766 censored messages from 44,254 users, as well as their personal information".
In case you were wondering, Mr Villeneuve, had not penetrated the Chinese government's own Great Fire Wall. But he had traced the routeing to Tom.com – one of the most successful web portals in China. Tom has a "joint venture" agreement with ebay, Skype's parent company, that allows it to run its own version of the Skype software.
The Globe and Mail doesn't mention, though, that Skype acknowledged, as far back as April 2006, that its system in China was subject to censorship. Back then, Niklas Zennström, Skype's chief executive, told the Financial Times (FT) that: "Tom had implemented a text filter, which is what everyone else in that market is doing… Those are the regulations." (Another FT interview with Mr Zennström, unrelated to this controversy, is being broadcast on FT.com today, and appears below.)
The real news is that someone has actually proven that messages containing "offending" words were not deleted (as Skype had promised they would be), but were passed on and stored. This may not be a surprise to some, but it was news to Skype. Josh Silverman, Skype's president, was quick to address a Skype news forum: "It was our understanding that it was not TOM's protocol to upload and store chat messages with certain keywords, and we are now inquiring with TOM to find out why the protocol changed."
The problem with more than a few joint-ventures in China is that "joint" is a misnomer. As recent controversies have shown, it's sometimes very difficult for the foreign partner to know what the Chinese partner is really up to. Nevertheless, ignorance is always a poor defence, so the onus in on the foreign company to go that extra mile to ensure that its partners (as well as its partner's suppliers and associates) are observing best practices; as well as of course making sure its own operation is squeaky clean. It's of course easy to say with hindsight but, if they had put their minds to it, just how difficult would it have been for Mattel (lead paint) or Fonterra (the New Zealand company that has a share in Sanlu, the now-disgraced dairy company) to have installed their own testing and monitoring regime?
As far as Skype in China is concerned, perhaps they might like to give Mr Villeneuve a call to find out more about how to spot breaches of trust. When all said and done, if they find out that "storage" (or worse) not "deletion" is indeed the policy (written or otherwise); then at least they should make sure that their subscribers are aware of this before they sign-up. When it comes to a brand's relationship with its consumers, honesty is always the best policy.
Sources:
Globe and Mail (Canada), "How a Canadian cracked the Great Firewall of China", 3rd October 2008
Financial Times, "Skype says texts are censored in China", 18th April 2006
Share.skype.com, "Skype addresses privacy breach", 2nd October 2008
Video appears within Financial Times story, "Sky slams China partner on monitoring", 3rd October 2008
.
.
.
Animated Guangzhou - Thursday, 2nd October 2008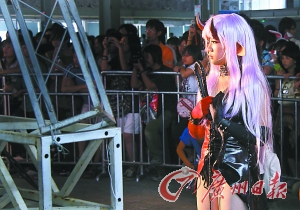 Living her favourite cartoon character
If you are fan of animation, comics, cartoon characters – or simply like the idea of dressing up in a pink frilly frock or perhaps a skin-tight black-latex bodice – then Guangzhou is the place to be this "Golden" week. The city is hosting the inaugural China International Cartoon Festival as well as the second-annual "Guangzhou-Hong Kong-Macao Anime Comics and Games Expo".
The Guangzhou Daily reports today that the Anime and Games exhibition attracted an enthusiastic crowd of more than 30,000 yesterday, the opening day. As well as the odd dominatrix (see photo), there were also famous Hong Kong animators in attendance to sign-autographs and entertain the crowds. Huang Yulang, one of the Hong Kong "masters", was full of praise for the mainland's animators. He told the Guangzhou Daily that they had improved considerably (from the days when Japanese animation-style was copied) and were now producing excellent original work.
Animation is big business in Guangzhou. According to Xu Zhibiao, the city's vice-mayor, annual investment in the sector is 180 million yuan (US$26M). The city is home to more than a 100 "animation" companies employing 15,000 workers in a thousand workshops; as well as a dozen or so "comics-training" institutes – all of which contribute more than 10 billion yuan to the city's GDP (more than half of the sector's contribution to national output).
The show reel below, produced by one of those Guangzhou animation companies, is certainly good; but the 175-hectare "cartoon industrial park" that is now under construction will ensure that the virtual bar is raised even higher.
Sources:
Guangzhou Daily, "30,000 people attend…", 2nd October 2008
http://gzdaily.dayoo.com/html/2008-10/02/content_333168.htm
China Daily, "Animated moves fuel cartoon sector", 27th September 2008
http://www.chinadaily.com.cn/cndy/2008-09/27/content_7064587.htm
CCTV, 28th September 2008
http://www.cctv.com/program/cultureexpress/20080923/101833.shtml
China Daily (Hong Kong edition), "Guangzhou to host international comic show", 19th May 2008
http://www.chinadaily.com.cn/hkedition/2008-05/19/content_6694210.htm
China Daily, "Guangzhou cartoon industry set to soar", 21st December 2007
http://www.chinadaily.com.cn/cndy/2007-12/21/content_6337471.htm
"Vision3h.com" promotional video, embedded on 2nd October 2008:
.
.
.
China celebrates its 59th anniversary - Wednesday, 1st October 2008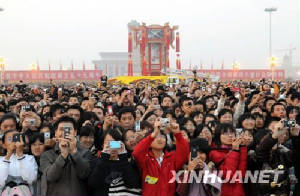 The crowd this morning capturing the moment
Flag-raising (and lowering) in Tiananmen Square is one of the biggest tourist attractions in Beijing. Every day of the year, thousands squeeze together to get a view of the ceremony. This morning's crowd - on the 59th anniversary of the founding of the People's Republic of China - was estimated (by Xinhua) to be "around 190,000".
That may seem a lot of people, but in the context of Tiananmen-gatherings, it's a poor turn out. The official attendance figure for Mao's proclamation of the establishment of the PRC is 300,000 (a grainy propaganda film of the event appears below); while crowds of "more than a million" are sometimes written about.
Whatever the actual number, you can be sure that a good proportion of the attendees are Chinese residents from outside of Beijing, here for a "Golden Week" of hard-earned rest and recreation.
Beijing is the most popular destination for domestic tourists and this year, as well as Tiananmen Square and the other "traditional" sites, visitors will be heading for the city's iconic Olympic venues:
Not slow to spot an opportunity for maximising revenue from tourism, the Beijing authorities have re-opened the Olympic Green, which holds the Bird's Nest national stadium and the Water Cube (the Olympic swimming and diving arena). And the turnstiles are sure to be spinning frantically during the next few days. Zhang Huiguang, director with the Beijing Tourism Bureau, told Xinhua that he is expecting 250,000 people to visit the site each day. At up to 50 yuan (about US$6) per ticket, it's not just the tourists who will be enjoying a Golden Week.
Cadbury embroiled in milk scandal - Tuesday, 30th September 2008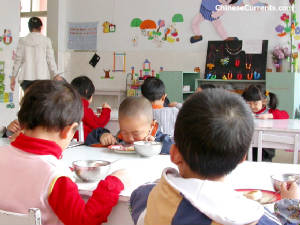 Kindergarten breakfast time in Hebei - the province at the centre of the melamine-poisoning scandal
Dairy products tainted with melamine have caused the deaths of "at least three" toddlers and have led to the hospitalisation of 13,000 others with kidney problems (among 53,000 affected), according to China's official news agencies.
The main culprit in this sorry tale is Sanlu, whose baby powder was the first product to be named and shamed (scandalously, news of the contamination was suppressed for more than a month). Sanlu is based in Shijiazhuang, the capital of Hebei province, which is also the centre for illegal melamine usage. Xinhua reports that police have detained 22 people in the city, including 19 managers of dairy farms and milk-purchasing stations, and that 222.5 kg of the chemical was seized in raids.
A poignant reminder of the human suffering caused by this appalling crime is captured in the first video below, which features Ms Wang, whose grandson, Wang Junxin, is suffering from kidney stones caused by drinking "milk" made from contaminated Sanlu milk powder.
The scale of the problem continues to increase. More than 20 brands have been implicated. According to The Times among others, Cadbury has now been added to that list. The Times quotes a spokesperson from Cadbury Asia Pacific as saying that: '"We have received results that cast doubt on the integrity of a range of our products manufactured in China." 11 products "made in Beijing" have reportedly been affected.
It would be astonishing if Cadbury has only just found out about this. We need to know more about the internal and external testing procedures (as well as the politics surrounding them). This uncertainty, added to numerous others, will only serve to drive down Chinese public confidence in the dairy and associated industries even further. As one Chinese-blogger wrote a few hours ago: "What is there left for us to eat or drink?"